Read Time:
2 Minute, 35 Second
When the USB-IF announced plans for adding a Power Delivery profile for 240W charging we thought it was something for the future. The standard way of doing things may indeed be something for the future, but today brings us almost at that point with the new Redmi Note 12 Explorer.
This phone is based on the Redmi Note 12 Pro+ (which also debuts today), but ups the charging speed from 120W to 210W. The battery capacity does go down – from 5,000mAh to 4,300mAh – as Xiaomi had to build a battery to very exacting requirements.



The Xiaomi Redmi Note 12 Explorer sets a new benchmark for fast charging – 210W
With that in mind, a complete 0-100% charge with the Explorer takes only 9 minutes. By the 5 minute mark the phone is already at 66%. For comparison, the regular Redmi Note 12 Pro+ needs 19 minutes for a full charge (keep in mind that it is filling a battery that is 16% larger).
By the way, this is proprietary Xiaomi tech rather than Power Delivery. The upcoming USB-PD standard prescribes 50V at 5A (with some safety margin) for 240W. Xiaomi instead keeps the voltage low – at 20V, which is pretty common these days – and splits the electricity into three channels of 20V at 3.5A each (so 70W, but each channel is designed to handle up to 100W to ensure stable, safe operation).
Also, the charger that pushes out those impressive 210W is surprisingly small thanks to the power of GaN technology – it measures 67.3 x 64.3 x 30mm. Unlike some other super fast chargers, this one promises to output its full 210W even in countries with 110V electrical grid. The supplied 1m (3.3ft) cable has an E-mark chip to make sure it is used safely only with supported chargers (the charger will refuse to do 210W without the E-mark). For other devices the charger can output a standard 65W using USB-PD.
Now that you have heard all about the amazing charger and battery, all there is left to talk about is the price of the Redmi Note 12 Explorer (it really is identical to the 12 Pro+ in all other respects).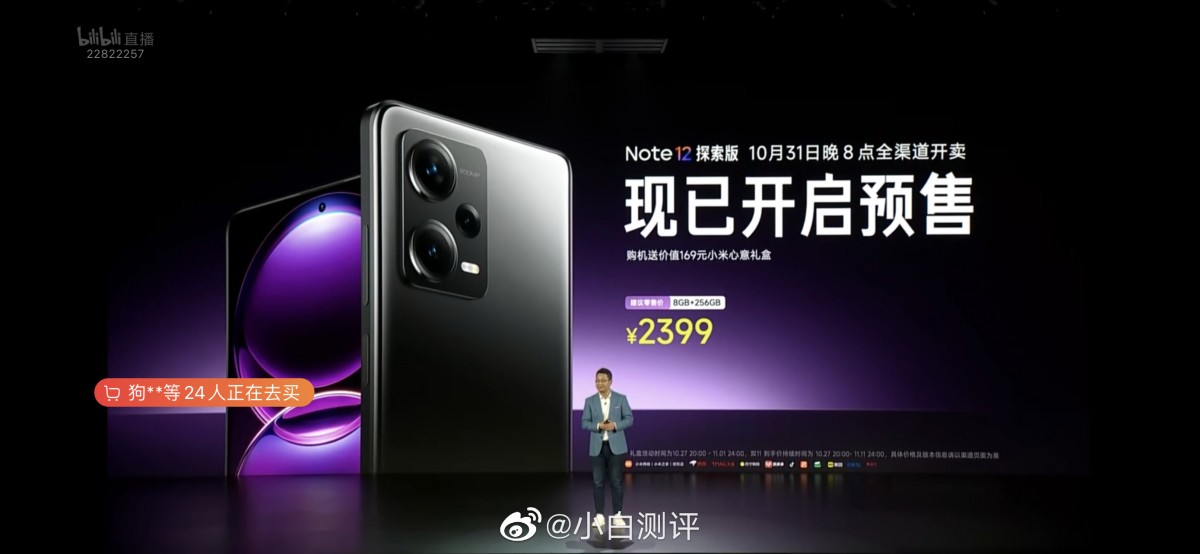 The Explorer will be available from October 31 at a price of CNY 2,400 for an 8/256GB unit (pre-orders are opening today). That's barely above the price of a Pro+ with the same memory, CNY 2,200. If you're curious, CNY 2,400 converts to $330/€330, but we're not sure if the Explorer will be available outside of China.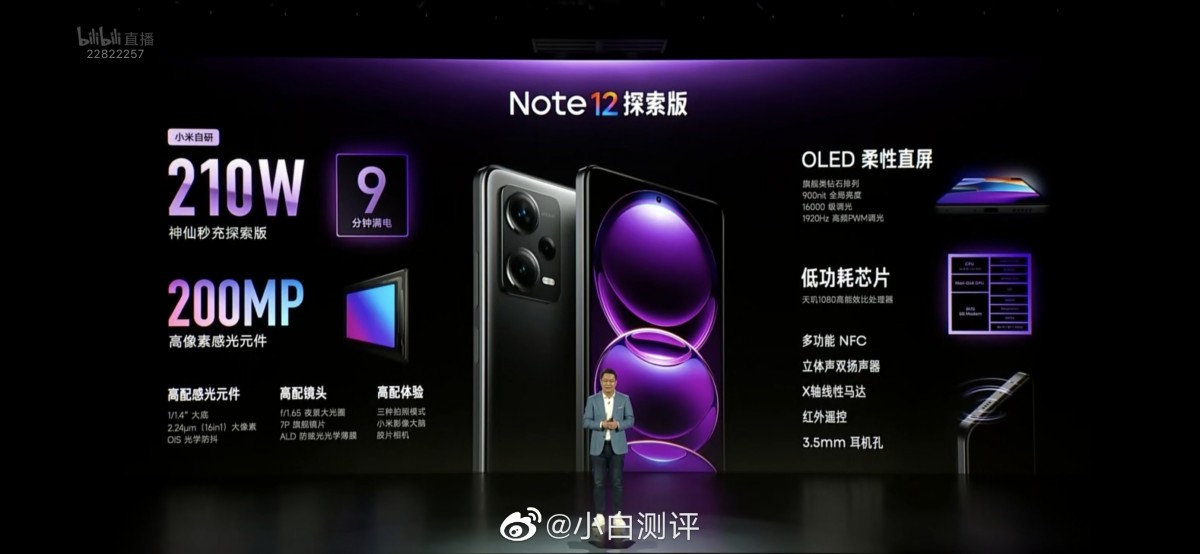 A quick summary of the Redmi Note 12 Pro+/12 Explorer specs. They pack a 200MP main camera (1/1.4" ISOCELL HPX sensor, f/1.7 lens with OIS), which is paired with an 8MP ultra wide camera (119°) and a 2MP macro cam. The phones are powered by the Dimensity 1080 (a revamped 920) and have 6.67" 120Hz OLED displays (10-bit panels, Dolby Vision support).