Read Time:
1 Minute, 20 Second
Ace interior designer and
Hrithik Roshan
's ex-wife Sussanne Khan celebrates her birthday today and friends from the industry have been showering love on her. She also expressed her feelings through a post this morning.
Sussanne shared a picture with her sons and wrote, "So scared of getting older. I'm only good at being young….So I play the numbers game. To find a way to say..life has just begun… 😇♥️♥️ so will not stop this train and won't change for a minute the place I am in… Thank you Life, Thank you for making me who I am. With all the flaws and the scars I proudly wear my armour…
#Nevergonnastopthistrain
#olderbutyounger P.S Thankyou Raystar and Ridzsky for choosing me as your mom… and forever keeping me 'Me' 🙌🏻✨🌻
#CountingmyGraces 🤲🏻🤲🏻♥️♥️♥️♥️
#renegotiatedwithLife"
Sussanne's beau Arslan Goni had the sweetest wish for her. He put up a video of Sussanne amidst the snow at a picturesque location with 'Chand Baliyan' playing in the backdrop.
Sussanne shared his wish and also showered immense love in return.
He further put up a picture hugging her.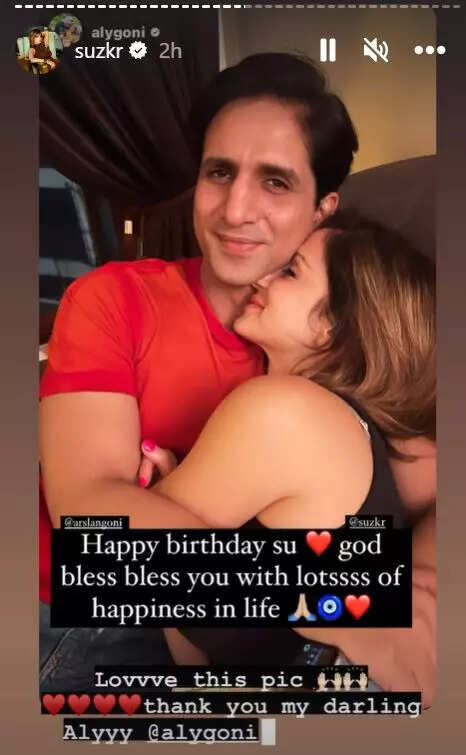 Meanwhile, there were rumours of the couple getting married but Arslan reacted to that in an interview with Hindustan Times recently. He had said that he doesn't like talking about his personal life even with his friends because there's already a lot of chatter about it, owing to the fact that Sussanne is Hrithik's ex-wife. He is not hiding anything but at the same time he's not really answerable to anyone about his personal life.