Read Time:
4 Minute, 20 Second
AMD today announced its Ryzen 7000 series of consumer desktop processors. Based on the new AM5 platform and the new Zen 4 architecture, these new CPUs introduce significant improvement in performance over previous generation Ryzen 5000 series as well as introducing cutting edge features like DDR5 and PCIe Gen 5.
The four CPUs being announced today are the 7950X, the 7900X, the 7700X, and the 7600X. These have similar core and thread counts as the initial wave of Ryzen 5000 releases but with some changes in the prices.
At the top of the stack is the Ryzen 9 7950X, a 16-core, 32 thread processor capable of boosting up to 5.7GHz and with 4.2GHz base clock. It features 80MB of total cache capacity and has a TDP of 170W. It's priced at $699, which is $100 less than the launch price of the 5950X.

Next is the 12-core, 24-thread Ryzen 9 7900X, which has a boost clock of 5.6GHz and base clock of 4.7GHz. It has 76MB of total cache and a TDP of 170W. It's priced at $549, which is the same as the launch price of the 5900X.
The third model in the line-up is the 8-core, 16-thread Ryzen 7 7700X. It has a boost clock of 5.4GHz and base clock of 4.5GHz. It has 40MB of total cache capacity and a TDP of 105W. It's priced at $399, $50 less than the launch price of the 5800X.
Lastly, there's the Ryzen 5 7600X. It features 6-cores, 12-threads and has a boost clock of up to 5.3GHz and base clock of 4.7GHz. It has 38MB total cache capacity and 105W TDP. It's priced at $299, same as the 5600X launch price.
All four processors also include an integrated Radeon Graphics with 2 graphics cores, 2200MHz graphics frequency, and 400MHz base frequency.

The new Ryzen 7000 processors are based on AMD's new AM5 platform. This new platform starts off with a new socket design with a 1718 pin LGA socket capable of providing up to 230W of power to the CPU. But despite the new socket and IHS design, the AM5 platform is compatible with CPU coolers designed for AM4.
Speaking of coolers, none of the aforementioned Ryzen 7000 CPUs will ship with a cooler in the box.
The AM5 platform brings with it two new motherboard chipsets, the X670 and the B650, with each also having an Extreme version offering more connectivity features.
Together with the new platform and chipsets, the Ryzen 7000 processors will support both DDR5 memory as well as PCI Express 5.0. Unlike Intel, however, AMD is going all-in on DDR5, which means there will be no DDR4 memory support on the AM5 platform.
The AM5 platform will support the company's new EXPO technology, which is essentially AMD's version of Intel's XMP. It's a one-click overclocking solution for memory and is what AMD processors will be using going forward instead of XMP. By default, the Ryzen 7000 CPUs support memory speeds of up to DDR5 5200MHz but higher speeds can be enabled using EXPO.
One of the most impressive aspects of the AM4 platform was its longevity. AMD is promising platform support through 2025+ for AM5, which means you can expect current AM5 motherboards to be supported at least till 2025.

The Ryzen 7000 series processors are based on AMD's new Zen 4 architecture. Based on TSMC's latest 5nm process, Zen 4 promises 13% average IPC improvement over the previous generation Zen 3, with clock speeds up to 5.7GHz and up to 29% total single thread gain. AMD also claims up to 1.3x improvement in nT FP32 inferencing with AVX-512 and up to 2.5x improvement in nT inferencing with AVX-512 VNNI.
In terms of efficiency, the company is promising 62% lower power consumption for the same performance and 49% more performance for the same power versus the Ryzen 5000 series. AMD also claims up to 47% more efficiency compared to Alder Lake. AMD provided additional first-party benchmarks versus the competition but we are just going to ignore them for now and wait for third-party testing with less cherry-picked data.
Overall, AMD is promising some good generational improvement with Ryzen 7000 series and the prices at the higher-end seem competitive. However, the cheapest part in the series still starts at $300, which may not seem much at launch until you factor in the cost of the rest of the system, which will include a new AM5 motherboard (which start at $125) and the cost of new DDR5 memory, which is still expensive. The TDP for the 6-core model has also gone up and with no cooler in the box that's another expense to consider.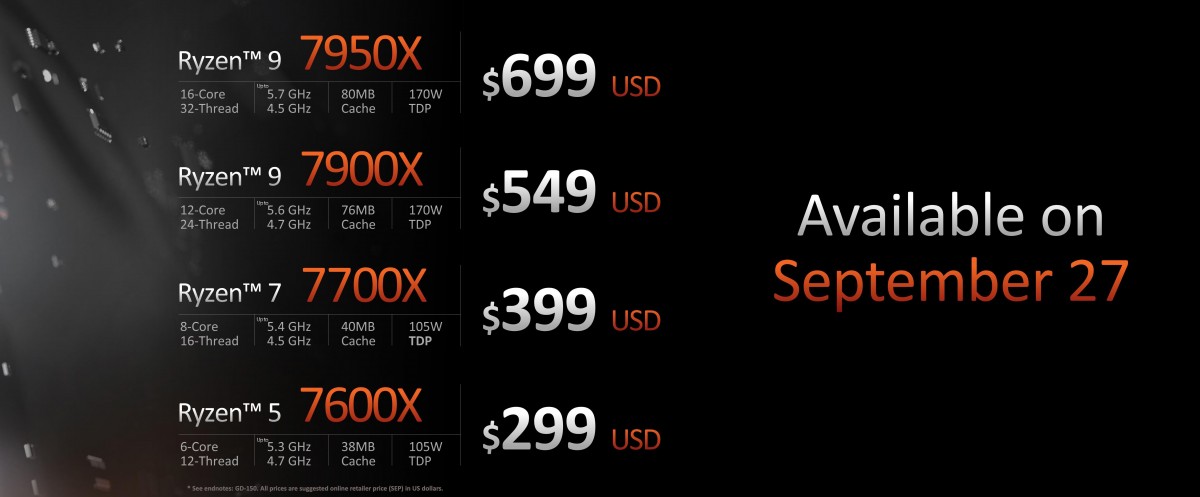 The Ryzen 7000 series CPUs will hit shelves on September 27. The X670 and X670 Extreme motherboards will be available in September and the B650 and B650 Extreme motherboards in October. PCIe 5.0 drives will be available in November from major manufacturers.