Read Time:
3 Minute, 31 Second
The Amazfit GTR 4 and GTS 4 we leaked last month with their specs and images have been officially unveiled by Amazfit with their pricing and availability details. These smartwatches share most of their features but come with different designs, dimensions, and weight. They also have different screens and batteries.
The Amazfit GTR 4 has a circular design and sports a 1.43″ always-on AMOLED color touchscreen of 466×466-pixel resolution protected by tempered glass. It's covered with an anti-fingerprint coating and surrounded by an anti-glare bezel.
The GTS 4, on the other hand, comes with a rectangular design and features a 1.75″ always-on AMOLED color touchscreen having 390×450-pixel resolution. The GTS 4's display is also covered with tempered glass and an anti-fingerprint coating, but it doesn't come with an anti-glare bezel. Besides, the GTS 4 supports over 150 watch faces while the GTR 4 comes with more than 200 watch faces.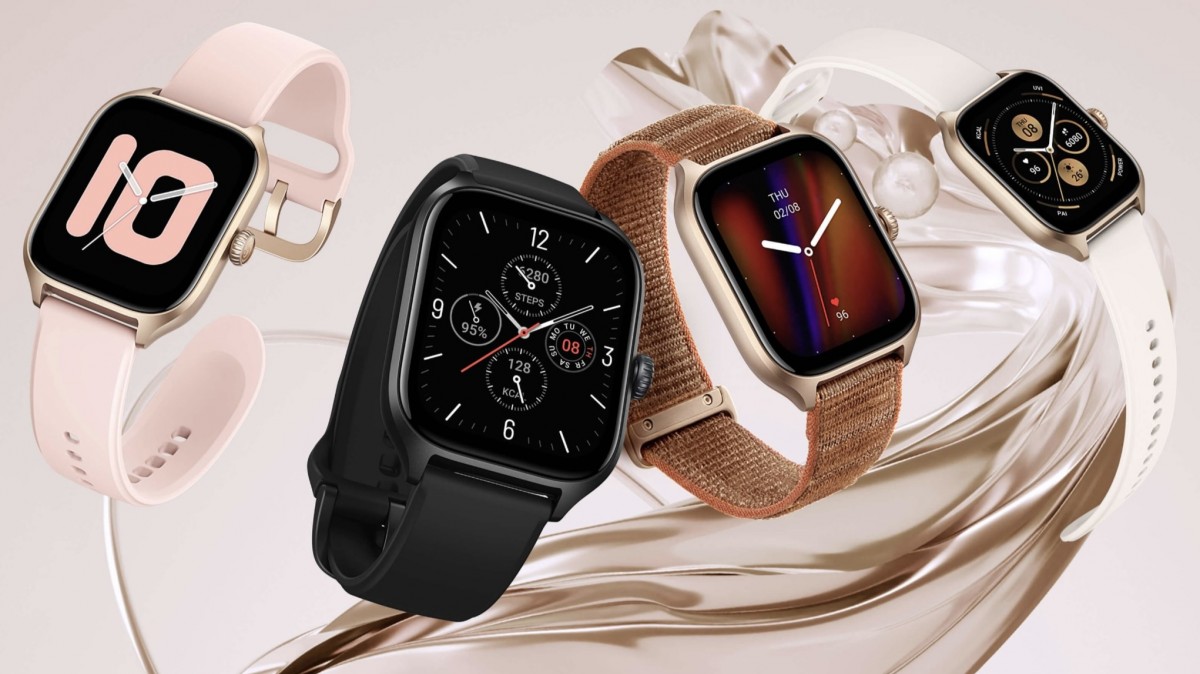 Both watches have an aluminum alloy middle frame, with the bottom shell made of high-gloss sprayed polycarbonate. However, at 34g, the GTR 4 is heavier than the GTS 4 by seven grams.
That's partly because the GTR 4 packs a 475 mAh battery while the GTS 4 has a 300 mAh cell under the hood. Different cell sizes also translate to different battery backup.
The GTR 4 can last up to 14 days in a typical usage scenario on a full charge, whereas the GTS 4 can provide eight days of endurance. These numbers come down to seven days and four days, respectively, in a heavy usage scenario. And if you are using the accuracy GPS mode, the GTR 4 can offer up to 25 hours of endurance while the GTS 4 will last up to 16 hours. That said, both smartwatches can fully charge in about two hours.
Since the dimensions of the GTR 4 and GTS 4 are different, their straps are also different. The former comes with 22mm straps while the latter comes with 20mm straps. The GTS 4's straps have two versions – Fluoroelastomer and Nylon. The GTR 4's straps have a third option – Leather.
Enough with the differences between the GTS 4 and GTR 4. Let's talk about the features shared by both the watches. The GTS 4 and GTR 4 run Zepp OS 2.0 and come with the usual slew of health and fitness features, including heart rate monitoring, sleep tracking, and blood oxygen level measurement. They also can also measure your stress levels and support women's menstrual cycle tracking.
The GTR 4 and GTS 4 support more than 150 indoor and outdoor sports modes, including swimming, since both have 5ATM water resistance. They can also detect eight sports movements automatically while also having support for fall detection. Although this feature will be added later through an OTA update.
The rest of the GTR 4 and GTS 4's noteworthy features include offline music storage, dual-band circularly-polarized GPS antenna, and route importing, which lets users import a route file to the watch and navigate it in real-time. Although this is also something that will be added later through an OTA.
The watches also have support for a mini app ecosystem and come with an offline voice assistant as well as Alexa. You also get Bluetooth phone calling on both the smartwatches and there's support for games as well.
The Amazfit GTR 4 and GTS 4 work with Android (7.0 and above) and iOS (12.0 and above) devices and have Bluetooth 5.0, BLE, and WLAN 2.4GHz connectivity.
The GTR 4 and GTS 4 are priced at $200 and are available for purchase in the US through Amazfit's official website. The GTR 4 comes in Superseed Black (fluoroelastomer strap), Vintage Brown Leather (leather strap), and Racetrack Gray (nylon strap) colors, whereas the GTS 4 is offered in Infinite Black, Autumn Brown, Rosebud Pink, and Misty White colors.
The GTS 4's Autumn Brown model comes with nylon straps while the rest come with fluoroelastomer straps.